Application procedure
On this page you will find information about how to apply for exchange programmes through the Department of Mathematics. Normally, we have two application rounds per year – one for the autumn term or the whole academic year with deadline in March, and one for spring term with deadline in September.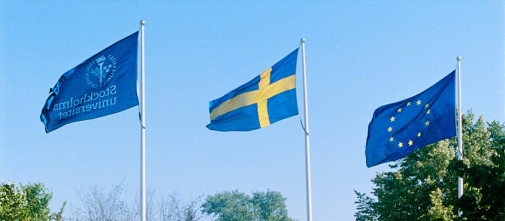 Erasmus
Current application round
Deadline for spring 2019: Thursday September 27, 2018
Eligibility requirements
In order to apply for Erasmus+ programme via the Department of Mathematics, you must be registered at our department, and have studied mathematics for at least one year. It is usually better to go abroad later in your studies and not directly after the first year, because then it is easier to find courses that can be transferred (tillgodoräknas).
Application
Before you can apply, you must do some background research. Among other things, you have to select and rank the universities you want to apply for.
In a nutshell, the application process looks like this:
Select 1-5 universities from the page Erasmus partner universities. Rank them in order of preference.

Make sure that the universities you select have courses at the appropriate level and in the correct language. If you cannot find course lists on the internet, contact the universities directly and ask. Note that sometimes it is not possible to get a complete list of courses this early, but (to avoid unpleasant surprises) it is important that you at least contact the universities to make sure that they have suitable courses.

If you like, you can make a preliminary course selection already in your application, but it is not mandatory and it will not affect your chances to be nominated. You should start thinking as early as possible about which courses you would want to take during your exchange studies and making a preliminary course seclection is a good way to do so. You can make a preliminary course selection in attachment 2 of the application form (ignore the star next to attachment 2 in p. 3; preliminary course selection used to be, but is no longer, mandatory).


Write a short cover letter where you motivate the choice of countries and universities in step 1.
Fill in the application form below and send to erasmus-out@math.su.se.

Application form for outgoing exchange students (225 Kb)
Selection criteria
We can send 1-3 students to each partner university, depending on what is specified in the exchange agreement with the university in question.
So far we haven't had any competition on the spots within Erasmus. However, in the unlikely event that too many students apply for the same university, selection will be made according to the same criteria as for the central agreements, read more here. Students who won't be selected for their first-choice university, will be considered for their second-choice university instead. If they won't be selected there either, they will be considered for the third-choice university etc.
(No selection for late applications; available places will go to whoever applies first.)
Fudan University in Shanghai
Information about how to apply for Fudan University can be found on the following page: Fudan University in Shanghai.
For outgoing exchange students:
To study at Stockholm University