Incoming exchange
Each year the Department of Mathematics receives around 40-50 exchange students from its partner universities. This page includes practical information for incoming exchange students and international partners.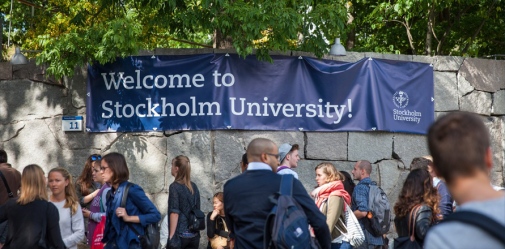 Application procedure for incoming Erasmus students
In a nutshell, the application procedure at the Department of Mathematics within the Erasmus+ programme looks like this:
Only students from universities/departments that have an Erasmus exchange agreement with the Department of Mathematics at Stockholm University can apply. A list of our partner departments can be found here.
If you are an international coordinator, and are interested in establishing a new Erasmus exchange agreement with our department, contact Annemarie Luger (luger@math.su.se).
If an agreement exists, the students will initially apply for exchange positions through their home universities. Contact the international coordinator at your university for details about the application procedure.
When the home university has finished their selection, they will send nominations to our exchange coordinator (erasmus@math.su.se). Deadline for sending in nominations for autumn term is May 1, and for spring term October 1.
Nominations must always come from the home university, we never accept applications directly from students!
After receiving nominations from partner universities, we will contact the students directly via e-mail and give further instructions.
After receiving instructions as in step 4, the students will submit some documents, normally by May 10 or October 10. These include: (official) English translation of the transcripts of academic credits, motivational letter, course selection form and a form with personal data.
Students will receive instructions on how to apply for accommodation at the end of May or October. Notice that we cannot guarantee accommodation for all incoming students. Read more here: housing for exchange students. The housing situation is better in the spring - if possible, please consider coming for the spring term rather than autumn.
Courses for exchange students
Courses in mathematics and mathematical statistics
Our department has a broad selection of courses offered in English. Courses on the basic level are only given in Swedish, so incoming exchange students should have studied mathematics for at least one year before coming to our department.
Lists of courses that are given in English at the Department of Mathematics can be found here:
Exchange students can choose freely among these courses, given that they have sufficient prerequisites for each course.
Courses at other departments
Exchange students who come to Stockholm University via an agreement with the Department of Mathematics can also take courses at other departments, given that the special eligibility requirements are met, and that there are places available. Notice, however, that you will be expected to take the majority of your courses at our department.
Courses given at other departments can be searched for in SU's online course catalogue:
But notice that some courses are only listed on the departmental websites.
If you find a course that is interesting, contact the exchange coordinator at the Department of Mathematics, who will then forward your question to the department in question.
Courses in Swedish
All exchange students can take beginner or advanced level courses in the Swedish language.
Further reading
More information about exchange studies at Stockholm University can be found here:
If you have any questions, don't hesitate to contact the exchange coordinator!
For incoming exchange students:
To study at Stockholm University