Lisa Nicklasson - PhD student
Lisa Nicklasson, 27 years, from Stockholm. After Master studies in Mathematics, she is now a PhD Student in Mathematics at Stockholm University.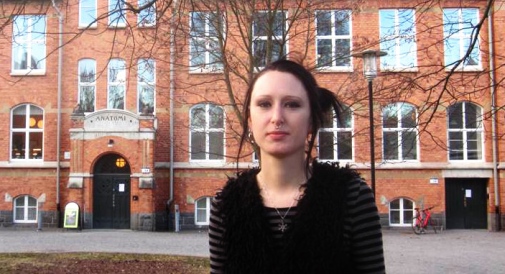 Why did you choose to take a master's degree in mathematics at Stockholm University?
I did my Bachelor's degree in mathematics at Stockholm University, and was very pleased with the education. Since I wanted to continue in Mathematics, it was natural to proceed to master level in Stockholm.
Which area did you specialize in?
During the Bachelor education, I found algebra to be the most fun topic. Therefore I choose to specialize in algebra during the Master's education, but I also took courses within other areas.
Why did you decide to apply for the PhD programme?
I wanted to do research in mathematics, so the logical next step was to apply for a PhD position. It was tough competition to get this position, both from Swedish and international applicants.
In what way have your master-level studies prepared you for the PhD studies?
In my research, directed towards commutative algebra, I have had good use of the courses from the Master's education. I have had particular use of the course in Mathematical communication and the work with the Master's thesis, since I got to try to do research and write scientific texts in mathematics.
Do you have any advise for prospective or current students?
Of course you should apply to our Master's Programmes if you're interested in deeper studies in Mathematics! During the Programme, it is wise to think of which topic you wish to write your thesis in, and make contact early with potential supervisors. Your mentor will also help you with that.