Lucia Geometrica - a celebration of geometry
EVENT
Date:
09 December 2019, 9.30 AM
-
13 December 2019, 2.30 PM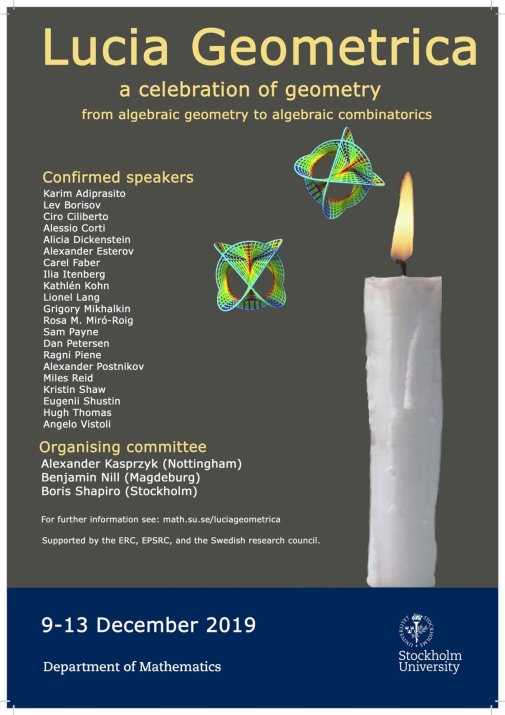 If you have any questions regarding the conference please contact a member of the organising committee:
Participants are welcome to book their lodging themselves. Department recommends the following hotels located near the conference cite:
Elit Hotell Arcadia
Best Western Plus Time Hotell
Elite Palace Hotel
Their homepages are easily found on the internet.
Invited guests can access the reimbursement form below. (Notice that we need the originals of the receipts, electronic receipts are ok).

Expense claim (71 Kb)
We plan to have a poster session; the preliminary date is Thursday December 12. Please, inform when registering if you are interested in presenting a poster.
Please, note that we provide free lunches for the registered participants.
Monday:

09.30

Registration
10:00-11:00
Alicia Dickenstein
11:15-12:15
Karim Adiprasito

12.30

Lunch

15:00-16:00
Alexander Postnikov
16:15-17:15
Dan Petersen

Tuesday:

09:00-10:00
Grigory Mikhalkin

10.15

Coffee

11:00-12:00
Ilya Itenberg

12.30

Lunch

14:00-15:00
Eugenii Shustin
15:15-16:15
Kristin Shaw
16:30-17:30
Kathlén Kohn

Wednesday:

09:00-10:00
Rosa M. Miró-Roig

10.15

Coffee

11:00-12:00
Lev Borisov

12.30

Lunch

14:00-15:00
Sam Payne
15:15-16:15
Alexander Esterov
16:30-17:30
Lionel Lang

18.30

Conference dinner

Thursday:

09:00-10:00
Alessio Corti

10.15

Coffee

11:00-12:00
Miles Reid

12.30

Lunch

14:00-15:00
Ciro Ciliberto
15:15-16:15
Ragni Piene
16:30-17:15
Poster session

20.00

Lucia concert (optional)

Friday:

10:00-11:00
Carel Faber
11:15-12:15
Hugh Thomas

12.30

Lunch

13:30 – 14:30
Angelo Vistoli